We create the posibility to EXPLORE spaces in a virtual and
3-Dimensional way
Give your clients:
1. A Marvelous option to walk virtually through their possible new property
2. View your business/products
3. Meet their next relaxing RESORT
and much more...
Industries That Can Benefit From Our
360 Cam Tour
Now, any business can leverage affordable, rapid, high-fidelity visualization of real spaces to immerse,
impress, and gain efficiency.
EXPERIENCE
fully immersive
virtual spaces
that feel so real,
it's like being there.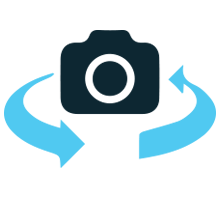 How Does It Work
We take care of everything and spare you the hassle
You set an appointment on
our website or by calling us.
A friendly 3D scan
professional arrives
on time and images the interior.
We process the 3D scans and
send you the embed link within 24-48 hours.
This is a mockup. Publish to view how it will appear live.
Your Clients Experience
3 Unique Views
Be Amazed
click our 3D Showcase Demo below
Our 360
Cam Tour
and feel like you are
actually there!
Giving online buyers a virtual tour has
never been easier
Engage renters where they start their journey - online
Create a connection with your guests
even before they arrive
A better way to document your construction projects